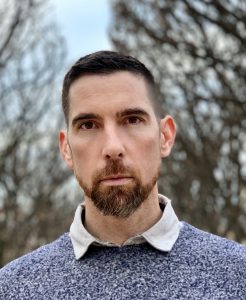 Michael Meere is a scholar of French-language literatures and cultures from the fifteenth to the eighteenth centuries. He has edited French Renaissance and Baroque Drama: Text, Performance, Theory (U of Delaware P, 2015) and has published over fifteen articles on authors ranging from François Rabelais to Voltaire. He has written a book on the poetics and performance of violence in sixteenth-century French tragedy (under review); his second book (in progress) examines staged reenactments of current events in sixteenth- and seventeenth-century France. He is also preparing several critical editions of French tragedies from the late sixteenth century and working on a collective volume on professional theater at the turn of the seventeenth century.
Other research interests include early modern travel narratives and cross-cultural interactions, indigenous studies, gender·queer studies, critical and literary theory, and visual studies. As part of his teaching and research on contemporary theater and performance, he has co-authored an article with Sophie Dora Tulchin ('20) on the work of Mohamed Kacimi.
His research has been supported by the Fulbright Commission, the Chateaubriand Fellowship, the Society for French Studies, and the Society for Early Modern French Studies. He has taught literature and language at King's College London, College of the Holy Cross, Columbia University, SUNY-FIT, Fordham University, The New School, Princeton University, Lumière University Lyon 2, Università di Padova, and the University of Virginia.
Ph.D., University of Virginia (French Language and Literature); Master 2, Paris-Sorbonne University (Littérature française et comparée); Maîtrise, Lumière University Lyon 2 (Lettres modernes); M.A., University of Virginia (French Language and Literature); B.A., Northwestern University (French and Comparative Literature, with Honors)